The Left Launches an Unfair and Weird Attack on Ivanka Trump
So for at least as long as her father remains president, she will have to endure the constant personal attacks from these hate-filled morons.
Let me state at the outset. I'm not a fan of Ivanka Trump. At least not politically. She certainly appears to be a good person, a good wife and a wonderful and caring mother.
Her political/social views are another thing all together. Ivanka is no conservative. She is liberal on immigration and climate change. She is for paid family leave, special rights for the LGBTQ – Ei-Ei-O crowd, and supports universal pre-k. That's just some of her stances, but it's enough for me to take a pass.
However, I find myself coming to her defense as she is once again personally attacked by the vile hellions of the left.
And what was her crime this time? Well, she had the nerve to post an Instagram photo of her lovingly holding her youngest son Theodore.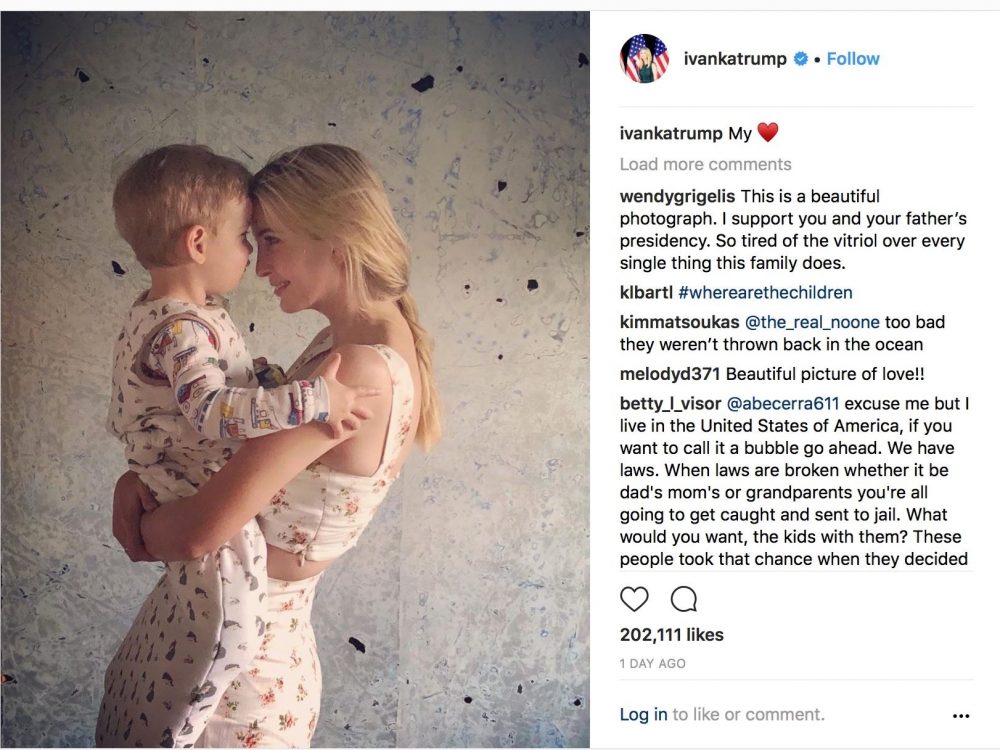 Trending: Lance Armstrong's Bike Shop Demands Cops Protect Them from Threats After Refusing to Sell Cops Bikes
Oh the horror. But how could such a sweet and simple photo trigger the left?
That's easy. Her last name is Trump. That and the left had such high hopes that the more liberal Ivanka and her husband Jared would be able to influence the president when it came to policy issues. They've been demonstrably disappointed.
So they've taken to attacking her personally for her father's political positions.
Yes Nadine – I'm sure that was her motivation! Nadine's vitriolic reaction stems from the president's zero tolerance policy on illegal immigration. I'm sure Ivanka just forgot to caption the picture: "Neener, neener. I have my child. Too bad you illegals don't have yours – thanks to my dad!"
Not to be outdone, angry leftist Patton Oswalt tweeted this:
What an a**!
Chelsea Handler, another vile and angry leftist wrote: "What in the world is wrong with this family? Is this picture supposed to remind Mexican asylum seekers what they've lost?"
What in the world is wrong with these people? Again – that's easy. As I've stated ad-nauseum – for the left, everything boils down to politics and gaining political advantage. Nothing and no one is off limits. So sad.
And as an aside, I wonder how many immigrants Chelsea, Patton and Nadine have personally sponsored. How many illegal alien families have they taken into their homes? I'm gonna to venture a guess and say exactly zero. Bunch of hypocrites.
We know Ivanka has been a democrat. Of course so was her father, for a long time. But I believe the president was more of a pragmatic dem. He was a business man who, whether you agree or not, thought it advantageous to grease the skids on both sides of the aisle. But being a New York business man, the skids were decidedly leftist.
The president, through his policies and appointments has shown himself to be far more conservative than certainly I thought. And for this, the leftists are blaming his daughter.
Ivanka's problems with the left will never go away simply because she is the spawn of the devil – Donald Trump. As we know, one of the requisites of the committed (and they should be) left, is to hate everything Trump – and by extension, to loathe his family.
The only way Ivanka could salvage herself and gain the admiration of these radicals would be to publically denounce not only everyone of her father's policies, but to denounce him personally. But we know this will not happen.
So for at least as long as her father remains president, she will have to endure the constant personal attacks from these hate-filled morons.
Don't forget to Like The Washington Sentinel on Facebook and Twitter, and visit our friends at The Republican Legion.
Become an insider!
Sign up for the free Washington Sentinel email newsletter, and we'll make sure to keep you in the loop.
119 Confederate Statues Have Been Destroyed as Liberals Move to Erase U.S. History
The anti-American left has succeeded in destroying 119 Confederate statues across the United States since the end of May, a report finds.
The anti-American left has succeeded in destroying 119 Confederate statues across the United States since the end of May, a report finds.
The domestic terror outfit, Black Lives Matter, has surged across the country causing like-minded city councils and left-wing-infested states to begin erasing U.S. history en masse. While the effort to whitewash history picked up speed since May with the police-involved death of Minneapolis man George Floyd, the move to dump statues has been going on at least since 2017.
According to a report at the Washington Times, 55 Confederate monuments were destroyed in 2017. Then, in 2018, another 34 were removed. In 2019 that number hit 21. But this year, 119 were eliminated.
"The removal of these Confederate symbols coincides with years of growth in support of racial justice and the BLM movement," said Brian Ross, the senior data analyst for public records service, BeenVerified, the group that amassed the evidence.
The service also noted that 1,650 Confederate monuments still remain on display in public view.
South Carolina, Mississippi, Georgia and Alabama have removed the fewest such monuments. California and Maryland removed the most.
"The country seems to have reached a tipping point of self-examination, and one of the most visible symbols of the history of inequality and injustice against Black Americans are the Confederate monuments dotting the cities, towns and municipalities throughout the United States," Ross added.
BeenVerified did not add statues to Christopher Columbus, though many of those have also been removed all across the country.
The paper also noted that most Americans are opposed to removing the statues.
"A majority of voters, 58%, in a Harvard CAPS/Harris poll released in June said the memorials should stay. Days earlier, though, another poll by Quinnipiac University showed that a majority, 52%, wanted to see them taken down from public spaces," the Times wrote.
Follow Warner Todd Huston on Facebook at: facebook.com/Warner.Todd.Huston.