The Left Launches an Unfair and Weird Attack on Ivanka Trump
So for at least as long as her father remains president, she will have to endure the constant personal attacks from these hate-filled morons.
Let me state at the outset. I'm not a fan of Ivanka Trump. At least not politically. She certainly appears to be a good person, a good wife and a wonderful and caring mother.
Her political/social views are another thing all together. Ivanka is no conservative. She is liberal on immigration and climate change. She is for paid family leave, special rights for the LGBTQ – Ei-Ei-O crowd, and supports universal pre-k. That's just some of her stances, but it's enough for me to take a pass.
However, I find myself coming to her defense as she is once again personally attacked by the vile hellions of the left.
And what was her crime this time? Well, she had the nerve to post an Instagram photo of her lovingly holding her youngest son Theodore.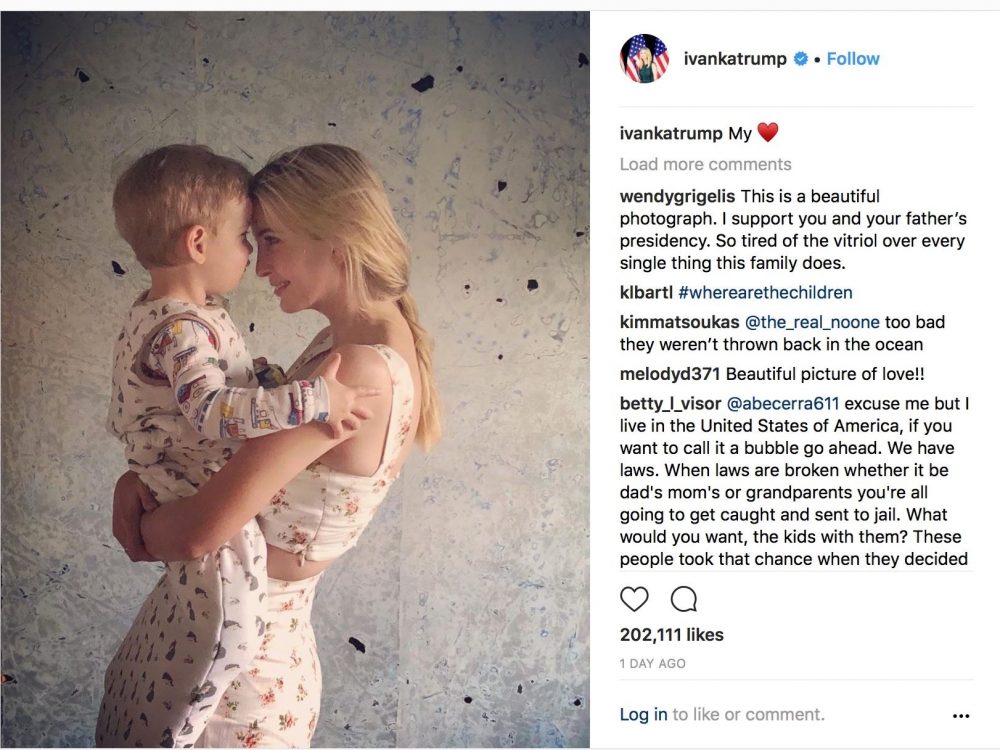 Trending: Joe Biden Says Illegal Aliens are More American Than Americans
Oh the horror. But how could such a sweet and simple photo trigger the left?
That's easy. Her last name is Trump. That and the left had such high hopes that the more liberal Ivanka and her husband Jared would be able to influence the president when it came to policy issues. They've been demonstrably disappointed.
So they've taken to attacking her personally for her father's political positions.
Yes Nadine – I'm sure that was her motivation! Nadine's vitriolic reaction stems from the president's zero tolerance policy on illegal immigration. I'm sure Ivanka just forgot to caption the picture: "Neener, neener. I have my child. Too bad you illegals don't have yours – thanks to my dad!"
Not to be outdone, angry leftist Patton Oswalt tweeted this:
What an a**!
Chelsea Handler, another vile and angry leftist wrote: "What in the world is wrong with this family? Is this picture supposed to remind Mexican asylum seekers what they've lost?"
What in the world is wrong with these people? Again – that's easy. As I've stated ad-nauseum – for the left, everything boils down to politics and gaining political advantage. Nothing and no one is off limits. So sad.
And as an aside, I wonder how many immigrants Chelsea, Patton and Nadine have personally sponsored. How many illegal alien families have they taken into their homes? I'm gonna to venture a guess and say exactly zero. Bunch of hypocrites.
We know Ivanka has been a democrat. Of course so was her father, for a long time. But I believe the president was more of a pragmatic dem. He was a business man who, whether you agree or not, thought it advantageous to grease the skids on both sides of the aisle. But being a New York business man, the skids were decidedly leftist.
The president, through his policies and appointments has shown himself to be far more conservative than certainly I thought. And for this, the leftists are blaming his daughter.
Ivanka's problems with the left will never go away simply because she is the spawn of the devil – Donald Trump. As we know, one of the requisites of the committed (and they should be) left, is to hate everything Trump – and by extension, to loathe his family.
The only way Ivanka could salvage herself and gain the admiration of these radicals would be to publically denounce not only everyone of her father's policies, but to denounce him personally. But we know this will not happen.
So for at least as long as her father remains president, she will have to endure the constant personal attacks from these hate-filled morons.
Don't forget to Like The Washington Sentinel on Facebook and Twitter, and visit our friends at The Republican Legion.
Become an insider!
Sign up for the free Washington Sentinel email newsletter, and we'll make sure to keep you in the loop.
'Reporter' Tries to Get Target Worker Tori Fired Because He Didn't Like Toothbrush Price
A jerk who thinks being a "verified reporter" makes him important recently used Twitter to try and ruin the life of a Target worker.
A jerk who thinks being a "verified reporter" on Twitter makes him important recently used Twitter to try and ruin the life of a Target worker because she refused to sell him a toothbrush at the price on the tag because the sticker had been improperly affixed to the product.
David Leavitt calls himself an "Award-Winning Multimedia Journalist" on his Twitter account. He claims he has worked for "CBS, AXS, Yahoo, Examiner," and others. But on Friday, he jumped to that Twitter account imagining that he had a blockbuster story about how a Target outlet in Massachusetts would not sell him an Oral B electronic toothbrush for a penny.
On Friday afternoon, Leavitt was furious when he thought he found a toothbrush listed at one penny, but then discovered that the Target shift manager refused to ring it up for that price because the tag had been improperly affixed to a counter display.
"This Target manager Tori is not honoring the price of their items per Massachusetts law," the incensed "reporter" wrote adding that he "had to call the police" on the manager.
I just had to call the police because @target Refused to sell me the toothbrush

— David Leavitt (@David_Leavitt) January 17, 2020
With his arrogance on full display, Leavitt seemed extra mad because the police told hm they would not arrest Tori or do anything else because he would have to take the retailer to court for redress.
The police verified @target displayed the price of toothbrush for $0.01 The store manager Tori refused to sell me the toothbrush for displayed price. The police said I need to sue them and that they are making me a verified report take to court @BBBConnection @AskTarget

— David Leavitt (@David_Leavitt) January 17, 2020
I have not been able to afford to go to a dentist in over three years. So yes I wanted a good toothbrush and was thrilled to see such an amazing prize on an @OralB but @target refused to honor it and now I have to take them to court

— David Leavitt (@David_Leavitt) January 17, 2020
Leavitt may have thought he would get the love of anti-capitalists everywhere for his attack on Tori and her store, but Twitter saw the "reporter's" story a bit differently. Indeed, most Twitter users thought that the person in the wrong here was Leavitt, not Tori.
Leavitt was ripped to pieces by people wondering why he was trying to destroy the life of a poor store manager. Others sided with Tori because Leavitt was exactly the type of jerkoff customer that all retail workers dread.
Here is a sample of some of those Twitter users who took a swipe at Leavitt:
— Kassy Dillon (@KassyDillon) January 17, 2020
You're a prize prick.

Please take this to court so the judge can force Target to sell a plastic display stand to you for $0.01.

Plus your legal fees of $10,000.

— Raheem Kassam (@RaheemKassam) January 18, 2020
Delete this, you absolute psychopath

— Lauren Chen (@TheLaurenChen) January 17, 2020
Leave the girl out of this and take down her picture. You're a bad person for doing this to her.

— Bridget Phetasy (@BridgetPhetasy) January 17, 2020
I literally work with Tori and she does not deserve this bullshit.

— Lindsey (@lindseyxjoy) January 18, 2020
Dude, please take her photo down. In what universe do you think it's ok to shame a woman working at @Target because she didn't sell you a toothbrush for 1cent? Calling the cops was bizarre, too. It's an obvious labelling error, she did her job.

— Rita Panahi (@RitaPanahi) January 17, 2020
not to mention, it explicitly says "DISPLAY F(i)XT(u)R(e)" 🤔 pic.twitter.com/mafBZXZ1ka

— M🌐F🌐Q (@MoFoQ) January 18, 2020
Needless to say, there are thousands of Tweets like this. Leavitt got absolutely no support for his quest to destroy Tori's life.
And then there was the guy who realized that Leavitt claimed he had not been to a dentist for "three years" but who found a post Leavitt made just over a year and a half ago where the "reporter" talked about going to a dentist:
— NoQuarter4Dems – 🇺🇸 Text TRUMP To 88022 🇺🇸 (@noquarter4dems) January 18, 2020
So, did this "reporter" lie? Has it been "over three years" since he went to a dentist, or not?
Yes, the media really is full of creeps like this, isn't it?
Still, when all is said and done, this may end hp helping young Tori out. Someone stated a "Tori Vacation Fund" on GoFundMe and it already has more than $14,000 in donations pledged to it!
Finally, here are some screen shots of Leavitt's tweets, just in case he realizes what an ass he looks like and deletes them:
Follow Warner Todd Huston on facebook.com/Warner.Todd.Huston. And be sure and check out our great products at RepublicanLegion.com.